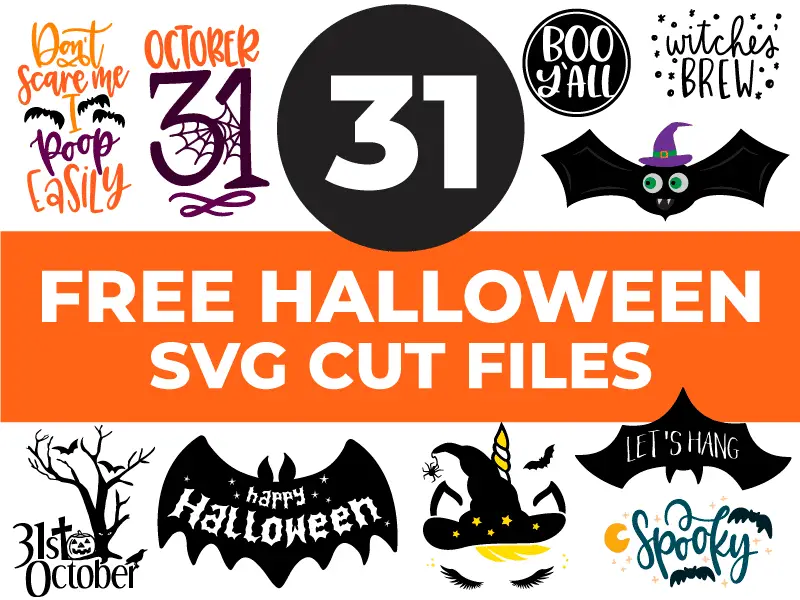 Can you believe it's almost fall again? 2020 has truly been a weird year and while some months have been incredibly long I still can't believe that is almost the end of the year. However, the fall season calls for all sorts of amazing Halloween projects, so I guess that's one thing to look forward to.
In this post I have gathered some of the best free Halloween SVG cut files online, so you have a bunch to choose from when you're making this year's Halloween DIY crafts. 31 designs to be exact. Made by 7 different designers.
I've gone through them all and downloaded them to make sure that they are actually free and are working and then I have placed them on some mockups to hopefully give you some ideas of how you can use these cool SVG files that these designers are offering for free.
The first one, of course, are a bunch of files from my own huge library of free SVG files. Here are 10 of our newest Halloween files that you can download today and make some awesome projects with.
PS. If you Wanna see all the free SVG files that we offer here on designsbyWinter.com you can click right here. Right now we have more than 250 files available. Completely free.
** Please note that these files are free for personal use only. If you want to make and sell projects with these files, then buy a commercial license from the designers' websites. **
Designs by Winther
I love to make these free SVG files available to all of you amazing crafters out there. Did you know that most my files are hand lettered? So, you won't be able to find my designs anywhere else than right here on designsbywinther.com
Right now as I'm writing this blog post we have more than 30 completely free SVG files for your next Halloween project. Here are some of them
Caluya Design
All right, so the next designer I will highlight is Caluya design.She has so many great files available on the site, here are some of my favourites for Halloween.
Also, make sure to follow her on one of the social media if you like free SVG files, because she really has some good ones and often shares more free files with her audience.
Here's a link to Caluya Design's website If you Wanna see all of her free SVG files: https://caluyadesign.com/
LoveSVG
LoveSVG is another one of those amazing svg sites, that you just need to know about if you are into crafting with free svg files. Here are four of their free Halloween svg files. They have so many more!
Cut That Design
Cut that design is another truly great site for free svg files. I believe they have more than 1000 to choose from. These are some of their halloween cut files.
I went with a few that I thought would look awesome as part of your home decor this Halloween.
They have a bunch more svg files for Halloween on their site, so jump on over and explore.
Shop Craftables
Shop Craftables is another great place to find some cool svg files files. They also sell vinyl and HTV, as their main business. Like a one stop shop for your crafting needs.
There are so many more designs to be found and downloaded on this site. Jump on over and get then now. And if you live in the states, then this is the perfect place to get some materials for your crafts as well.
Free SVG Designs
Man oh man. So many designs on this site. well over 1000 to pick from. A website that want to share the love of free svg files, just like I did. I love it. Check out her beautiful files and get some cute ones for your next project.
Pineapple Paper Co
Alright, now to the last designer I wanted to highlight in this post. I love her site. It is full of great diy ideas that you can draw a bunch of inspiration from. Hop on over to her site and get ready to make some super cute things.
I hope you enjoyed all of these amazing free Halloween svg files and have gotten a bunch of ideas for your Halloween DIY projects this year. Please share this pin on Pinterest so other crafters can get some inspiration as well.