So you want to save some money when buying a Silhouette? I've done some research about when you can expect it to go on sale and provided some links which can help you track the price of the specific machine (Cameo, Portrait etc.) you're looking for.
When do silhouette Machines go on sale? Most Silhouette machines will go on sale eventually, and usually they go on sale around specific holidays, such as Easter, Halloween, Black Friday, Thanksgiving, Christmas and also sometime during the summer. In the blog post you can read about how much the price has dropped the last year to see when you can expect the best sales.
Past sales as a guidline for future sales:
All the information in this list below is from amazon.com, if you're looking for UK/DE amazon prices check the bottom of this post.
Machines
Silhouette Cameo 4
Here's a graph of the prices from mid september 2019 to mid september 2020.

As you can see on the graph there's a huge price drop around:
Black Friday
Mid December
Before New Years
Mid January
Then we saw a couple of minor price drops:
Start of Februrary (probably because of Valentine's day) and
Around Easter
Then it seems there was price change mid April and we saw a sale again mid June which almost dropped the price to Christmas/January levels.
The Silhouette Cameo 4 came out just before Halloween 2019 which is most likely why it wasn't on sale that early, but I would expect the next sale to be around Halloween and then Black Friday.
The above graph comes from keepa.com you can follow the price there or set up a notification when the item drops below a certain threshold you set. I'm going through how to set that up in a section further down.
Silhouette Portrait 3
The Silhouette Portait 3 came out in August 2020 and it hasn't been on sale yet. The Silhouette Cameo 4 came out in October an had its' first sale on Black Friday so we can probably expect it to go on sale for the first time, either at Halloween or Black Friday, and then along the same holidays we've seen the Cameo 4 go on sale.
Here is the keepa.com link for the Portrait 3
Silhouette Cameo 4 Plus
The Silhouette Cameo 4 Plus has been out since March 2020 and hasn't been on sale yet. Same as with the Portrait 3 I'm expecting it to go on sale the first time either at Halloween, or Black Friday, according to what we've seen with the Cameo 4.
Here is the keepa.com link for the Cameo 4 Plus
Silhouette Curio
The silhouette Curio is an older model from 2015, and seems to sporadically go on sale from time to time. According to keepa data it's been on sale for $145 in January 2020 and $157 as recent as August
Here is the keepa.com link for the Curio
Silhouette Alta
The Silhouette Alta has been out since April 2020 and seems to have dropped in price from $350 to $300 but since it's a 3D printer and not a cutting machine I don't want to make any guesses on when it'll be on sale.
Here is the keepa.com link for the Alta
Silhouette Mint
The silhouette mint, like the Curio, is an older product so it doesn't necessarily have to be a larger holiday for it to go on sale, it seems to go on sale from time to time down to as low as $25 according to keepa.com
Here is the keepa.com link for the Mint
Software / Accessories
Silhouette Studio Designer Edition
Silhouette Studio Designer edition is needed to use SVG files in Silhouette studio. You can find a lot of free SVG files to use on your Silhouette here on our website. You can purchase Silhouette studio directly on Silhouette Americas website but you can usually get it at a discounted price if you get in on Amazon.
Silhouette Connect
You can use Silhouette Connect to connect Adobe Illustrator or CorelDraw to your silhouette machine. This can be purchased on Silhouette America's website, but can be found at a discounted price on Amazon.
Silhouette Roll Feeder
The silhouette Roll feeder can be used when cutting Vinyl or Heat Transfer Material, so if you're going to use those materials often this might be worth getting. This has been seen in the last year as low as 60% off.
Other Accessories
Obviously there are more accessories, I just found a few of the more expensive ones that I could see has been on sale in the past. You can find a list of all Silhouette America's own accessories here: silhouetteamerica.com/shop, but before purchasing them you might want to check amazon because some of the more expensive ones ($20+) do go on sale occasionally.
Guide for setting up keepa.com sale notification
Checking the price of an item and seeing it was on sale last week is very disheartening, but on keepa.com you can get a notification when the item you're looking for is discounted.
You can just set it and forget it and then you'll be notified through email when the item you're looking for is on sale on Amazon.com, which I think is very cool.
You don't necessarily need to create an account to set up the tracking. But if you don't set up an account you might accidentally delete the cookie in your browser and your tracking overview will be gone. You also won't be able to check it on multiple devices without an account.
Setting up an account is very easy however because you can use multiple different social media accounts including Facebook and Google, which makes the process almost 1-click and go.
Regardless if you've set up an account or not the next step is to press the "Track product" tab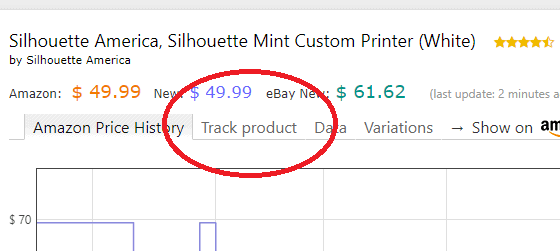 When you press the input field for the price it'll give you a few options, and you can see the lowest price from the past year and different other price thresholds. If you just want the item for the cheapest price it's ever going to be, I'd suggest picking "Lowest 1 year". You can also set a custom price in the input field, you don't have to choose from the list.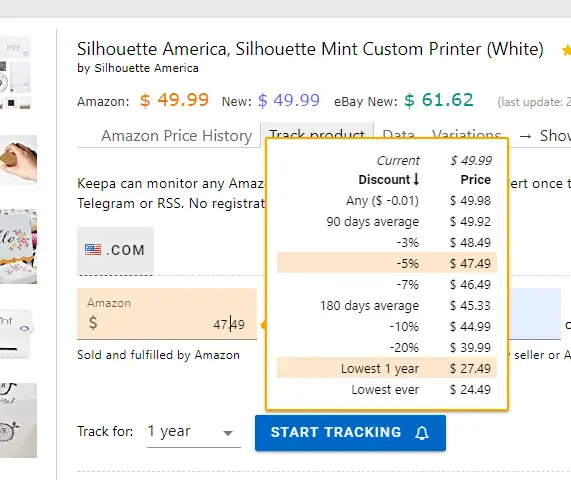 Once you press "Start Tracking" you'll get a few options, you can set up email, telegram messenger, web push notifications and RSS Feed notifications.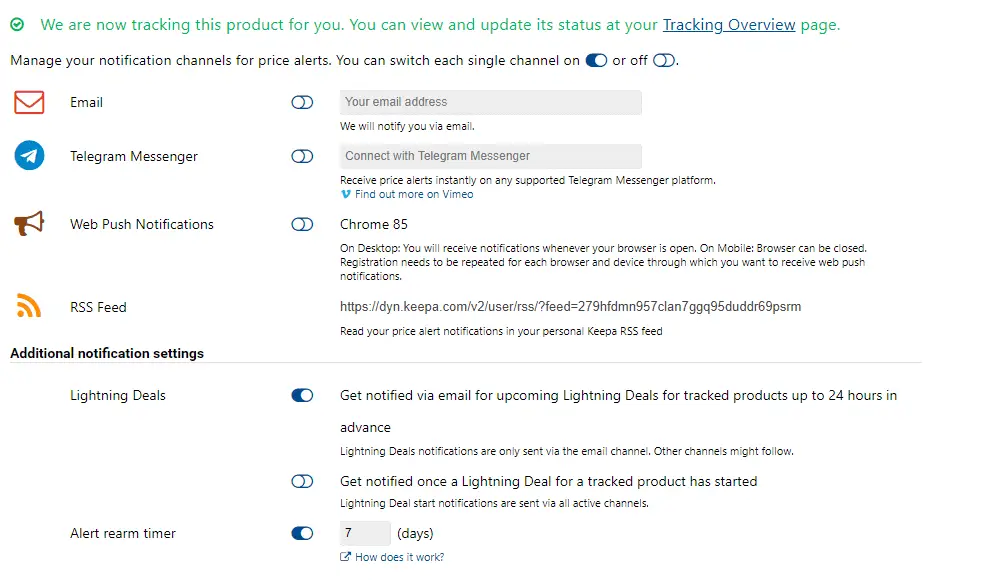 Email is pretty straight forward you just input your email and press the little enable button to the left of the input field and it'll send you an email when it goes on sale.
With telegram Messenger the same applies, you connect your account and enable the notification.
Web Push notification allows your browser to show you notifications if you just want the notifications when you're at your pc.
To use the RSS Feed you need an RSS Reader.
Lightning deals are short limited deals and if this is enabled you'll get these notifications on top of the regular sale notifications.
Finding products
There's a search on keepa, but it doesn't work that well in my experience, so the best thing you can do, is to find the product you want to set up tracking for, on amazon.com first.
Then you take this ID part here

And paste that directly into the search on Keepa.com and press enter

And it'll go directly to that product on keepa.com
Not from the states? UK and DE amazon links here
If you're from Europe and want to shop on the european versions of Amazon you need to change the setting on Keepa.com to find the correct products here: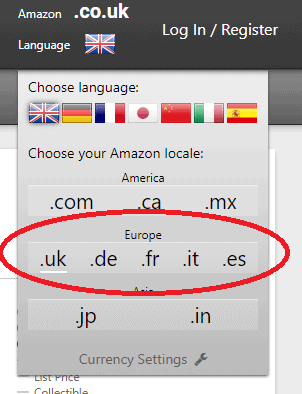 Below I've posted the keepa links for amazon.co.uk and amazon.de to the specific machines.
Silhouette Cameo 4
UK: keepa.com
DE: keepa.com
Silhouette Portrait 3
UK: keepa.com
DE: keepa.com
Silhouette Cameo 4 Plus
UK: keepa.com
DE: keepa.com
Silhouette Curio
UK: keepa.com
DE: keepa.com
Silhouette Alta
UK: keepa.com
DE: keepa.com
Silhouette Mint
UK: keepa.com
DE: keepa.com